The Power of Positive Reinforcement, Love & Play
I truly believe in the transformative power of positive reinforcement, outdoors, play, and love to elevate the bond we have with our cats.

We help cat parents with intuitive and uncomplicated tutorials and products designed to improve your bond with your feline friend.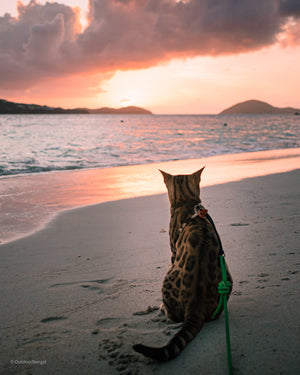 Do you ever see other people's bond with their cat and think to yourself, "Wow, I wish I could do that with my cat!"...but don't know how to get started?
Most likely you adore your cat and have been spending countless hours with them already, but your bond isn't where you want it to be. Some behaviors look off or behavior that you would like to stop and it frustrates you that you can never quite figure out why are they happening or how to control them. 
How the heck do all of your favorite cat parents make their bond and adventures look so perfect, polished, and most importantly...effortless?
Or perhaps you're working on clicker training cats and learning all you can, slowly, on your own, but you still don't feel satisfied with your progress and don't understand how to keep improving.
Maybe you've already started adventuring with your cat, taking them on family trips? You LOVED the feeling of taking your cat with you and want to do it even more. You've seen other cat parents doing things that inspire you, but you don't know how to read your cat's body language and help them really thrive and be comfortable outdoors.
If you found yourself nodding along to any of those bits, you're definitely not alone.
Back in 2020 before I started going on adventures with Mia, I used to look at other adventure cat parents and think to myself, "HOW?! I need to learn how to go outdoors with my cat on a lead." but didn't have any friends who were adventure cat parents yet and felt unsure of where to start. Then one day, I decided to just go ahead and give it a shot first slowly in my building and later on around my neighborhood and I've been taking Mia with me ever since.
In the beginning, most of my decisions were just me reading as much about dogs as I could and using my knowledge about cats and particularly about Mia... taking my best guess?
I read so many books and watched so many YouTube videos to gain my cat´s love but something would always go wrong (Mia not following commands, or getting scared, or behaving weirdly at home...) I could never quite figure out why! (Psst...If you don't understand the source of the problem, it's kinda of hard to figure out how to fix it.)
Nevertheless, I loved going on adventures with her and clicker training and continued to do it constantly and awkwardly. As I practiced, I learned by trial and error, and things slowly started getting better and Mia was always having a good time. To the point where my friends and some early Social Media followers started asking me... HOW!?
Don't take our word for it
★★★★★

Love the leash! It's sturdy and resistant but light enough so that Coy won't struggle with it.
★★★★★

The product arrived as expected and the quality looks great! Can't wait to try it with Snow!
★★★★★

I love the look of the leash! It's very unique and looks great in pictures :p
★★★★★

Albert & Mia have inspired us to take our cats outdoors and they love it! They also learned to sit and high five. Thank you!
★★★★★

Add customer reviews and testimonials to showcase your store's happy customers.